Πίσω στη σελίδα με τα "Κλασσικά Εικονογραφημένα"
Πίσω στην αρχική σελίδα του mycomics.gr
This is the cover of " Alexander The Great". Everybody may have some knowledge degree about him. He became King of Macedonia (northern Greece) at his twenties after the murder of his father. Urged by his youth followed his father ambitions. He unified (if you prefer "forced") the Greek states to a march against Persian Empire (today's Middle East and Turkey). The expedition had success and Alexander reached the borders of then known western ancient world, establishing cities under his name as a trademark of his passage through time. He buit his last Alexandria at today's northern Pakistan where still live an isolated tribe considered as descendants of greeks left behind.

The story of this comic is written fifty years ago by Sofia Papadaki and the artist is Vasilios Zeses. You can see their names at the cover. The cover artist is unknown.

Below there are scans from the interior plus comments. Read on!
This is page 20. Alexander steps foot on Asia and gives his first battle crossing Granikos river (today's northwest Turkey). Kleitos devoted friend and officer of his army stands by his side and the last moment cuts the hand of his apparent killer.

Alexander thanks his friend for saving his life.
This is page 1.The main characters are listed. At the center Alexander and around him clockwise his mother Olympias, his exotic bride Roaxanne, his friend Hephasteon, his arch enemy King Dareios of Persia, his first officer and friend Kleitos, his sister Kyna and his father Philippos.

The sign under Alexander is from ancient inscription addressing his greatness: "Zeus under my feet I hold the world. Olympus is yours" meaning he is master of the world and defies and overwhelms the will of Gods.
The saga of his sister Kyna is that after his death she losted her senses and since she was eternal (because she had drunk the immortal water) travels across the seas transformed to memaid, seeking the good news: that her brother king Alexander still lives.

She asks the ships' captains she meets and if the answer is negative she sinks the ship at her sorrow. If the answer is positive she calms the sea and makes the world feel her happiness: Alexander lives and his greatness is felt around the world..!!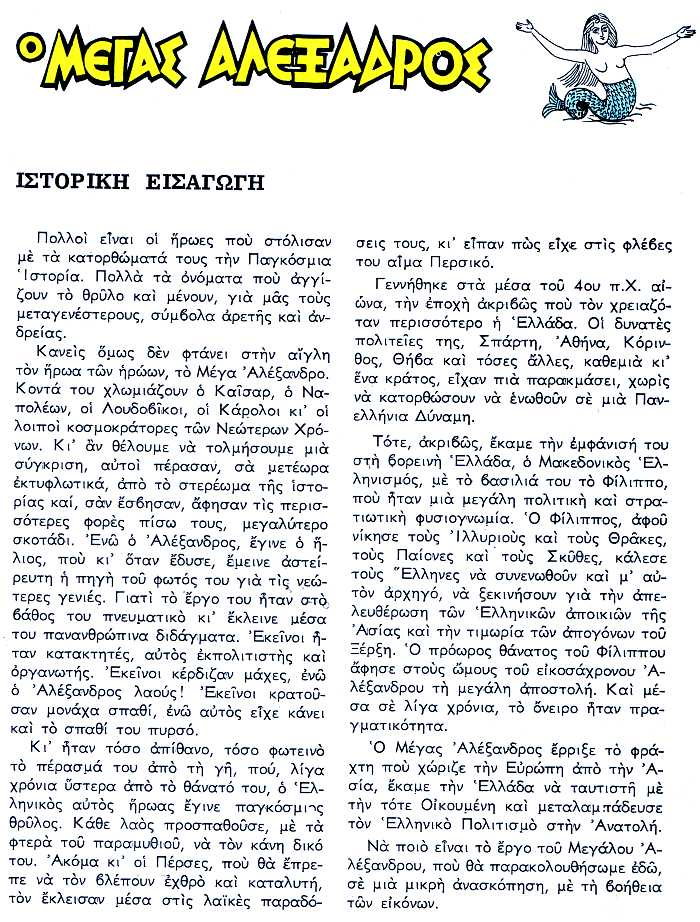 Πίσω στη σελίδα με τα "Κλασσικά Εικονογραφημένα"